What We Sell
Our own produce is reared from traditional free range farming methods with the highest welfare standard.
Award Winning Sausages, Burgers & Dry Cured Bacon made from only the best cuts & freshest ingredients
Free Range Meats - Our own Pork, Beef, Lamb & Venison (when in season)
Baked Fresh Daily & Homemade
Traditional Cornish, Welsh Oggie's & Sausage Rolls
Pies - Chicken, Beef, Pork & Venison
Homemade Faggots
Hot cooked Faggots every Friday – a really HOT FAVOURITE!
Woodland Free Range Eggs (incl Double Yolks)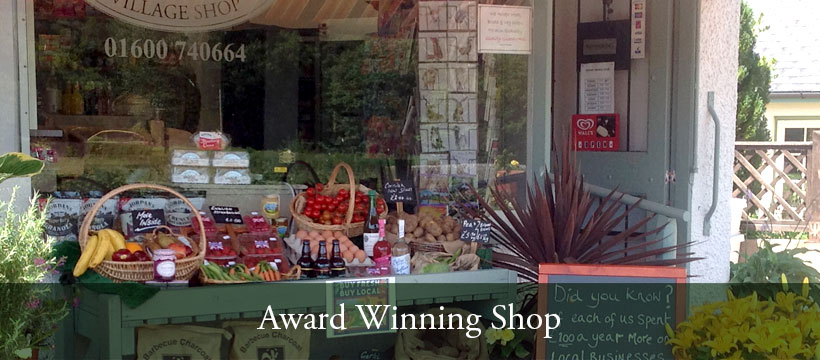 To contact our Award Winning Shop, please use one of the following methods:
13, Queens Hill
Dingestow
Monmouthsire
NP25 4BE
01600 740664
clare.edmonds2012@gmail.com
Our beautiful, award-winning shop is set in the heart of Monmouthshire. We pride ourselves in our personal friendly service which makes visiting us a joy! We stock a whole host of goodies from food to gifts including homemade, local welsh and artisan.
Proud to be Local

Our "Award Winning Shop" has seen tremendous success these last twelve months doubling our product ranges - not just "Great Award Winning Food" but also cards & gifts. We have gained tremendous local recognition for our large range of local, Welsh produce and proudly sponsor all Local Suppliers.
We have now opened a new kitchen which we have fondly nicknamed "The Pig Pen" after our stock of Rare Breed Large Black Pigs. Everything our kitchen produces is freshly homemade & created using our own farm produce or locally sourced. Take a look at Our Menu. The kitchen is open daily from mid July. Pop in and try our amazing "cream teas with homemade scones" from our award winning baker. Enjoy the sunshine on our pretty patio or we provide a takeaway service.
Our shop is the first point of contact for everything catering! We can cater for any size party and or business meeting delivering homemade great produce to your event! Prices from £8.00 per head!
Picnic Boxes - Recycled Kraft Picnic box packed with homemade goodies! - Superb treat for any occasion
New this year is our increasingly popular Gourmet Local Breakfast Hamper, designed to take the stress out of weekends away. It is stocked full of our amazing Dry Cured Bacon & Award Winning Sausages plus our own Free Range eggs along with other local goodies! Prices from £25 (plus local delivery) for 2 -4 people makes it a real winner!
Local Produce
Local & Organic Veg
Locally Baked Homemade Cakes
Welsh Dairy Produce & Organic
Local Award Winning Welsh Preserves
Local Honey
Local Award Winning Ciders & Beers
Locally Baked Bread
Mondays, Wednesdays, Fridays & Saturdays (Orders taken)
Specialist Wines and Fizz
All handpicked with tasting notes from our wine expert!
We are happy to take orders by phone
Meat, Bread, Milk, Daily papers
Please click here to view our New Homemade Meal Menu
Please click here to view our Gourmet Breakfast Hampers
Wales Finalist 2015 - Highly Commended
Village Shop / Post Office Award